As you may recall from my writings on Auburn, this big school thing is new to me. Yet, while there is learning curve for me in understanding the campus contexts of the schools like Auburn, UNC, and Towson (North of Baltimore); the people I am meeting fill me only with familiar inspiration and excitement! 

This is the story of my journey to the Forest Moon of Endor.
I was introduced via email to Tori through Jon Berger of Real Food Challenge. She is interested in starting a cafe/restaurant on her campus, stemming from her involvement with the on campus urban farm. Once again, through our phone calls and skype chats, I thought that things would be hard and that Chartwells would be a monolith in our way. Once again, visiting campus exposed some beautiful loopholes. 
On campus, there are many student organizations that have bake sales in the student center and for some reason or another be it willful ignorance or because it is allowed, the administration and Chartwells is fine with this. So the conversation turned from a physical space and restaurant to perhaps a food cart with soup, with bread, and healthy and delicious vegan and vegetarian food. 
Now this is important, because Towson prides itself on being one of the most vegan friendly large campuses. According to Tori, it is not. She was excited to show me how ugh the food was, but unfortunately/fortunately I stumbled through during vegetarian awareness week, and the options were many and palatable.
Regardless, I trust Tori, and more importantly is an opportunity for students to feed themselves through their own agency, and their own effort in meaningful ways. The urban farm is going to begin making free soup for the campus, and hopefully this will be a starting place for conversation around food autonomy and cooperative enterprise. 
Why was this the Forest Moon of Endor?
Towson is a beautiful semi-urban campus, with a forest running down the middle and bridges connecting the different building carrying folks through the canopy. It felt like Endor. But these were not Ewoks fighting the Imperial Army, these were students hungry to exercise their power and create a new world outside of the Imperial multi-national food service providers. A world of veggies and noms.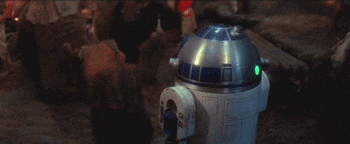 Do you like this post?